STORY DECONSTRUCTED: AN INTERVIEW WITH MAX ROSS
By Josh Krilov
It is often said that writing is re-writing. But even more important is de-writing: Deconstructing the work published in outlets to which you wish to gain access. When it comes to this process, Max Ross is a master.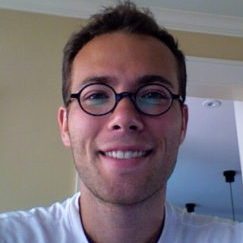 His work has appeared in The New York Times, The Paris Review, American Short Fiction, The Common, The Los Angeles Review of Books, newyorker.com, and elsewhere. His stories have twice been shortlisted for the Pushcart Prize, and he has led writing courses at NYU and the Minneapolis College of Art and Design.
I spoke with Max in anticipation of his upcoming Fiction Bootcamp on 10/4 and hisShort Story Bootcamp starting 12/6.
1) Do you have different approaches to writing fiction vs. nonfiction?
My approach is at once identical and opposite. For both forms, I need to be sure there's a solid structure in place, a sequence of scenes that, when put together, creates some sort of narrative. But the process of creating that structure differs quite a bit when I'm writing fiction versus when I'm writing an essay.
With nonfiction, I tend to write about things I've experienced in the recent past. It might be a family dinner, the death of a friend, or a soccer game I've gone to. Typically, immediately after the event, I'll have some inkling that I want to write about it — and this inkling usually arises because I can 'see' the scenes that would need to be written in order for a narrative to emerge. I sense that I've received, almost without trying, all the material I need for a story. (Not to say that makes the writing much easier.)
With fiction, I rarely have any foreknowledge of what I want to write about. Usually I start with a character, or a scene, or a line of dialogue, with no idea of what's going to come. There's a lot of trial and error involved — "Would the character do this? No. This? No." — and it's kind of like playing with dolls. Each scene must be created from scratch.
2) Tell us about your journey as a writer.
My approach to getting published has been fairly pragmatic. (Insofar as deciding to write for a living can be called pragmatic.) I treated it like I would treat any other job, with the knowledge I needed to start from the bottom and work my way up — I didn't have the chutzpah to start submitting things to The New Yorker from day one. I figured it would be a waste of time.
My first byline was in a little-known alt-weekly in Minneapolis. I interned for them, and they let me write a couple blurbs about things going on around town. Once I had a few clips, I figured I might try to get published in a slightly better-known alt-weekly — this was City Pages, which was then an affiliate of the Village Voice. I reviewed a couple concerts and interviewed a couple bands, and decided to aim higher: To write for The Star Tribune. I figured because I'd written for these other periodicals in town, they might pay attention to my pitch. I was lucky. They did.
And on and on. My process stayed the same for years — I would write a few pieces for one publication, and then use those as sample clips when querying an editor at another, better circulated outlet.
3) Is it hard to both write and edit?
When editing others, I try to be nicer than when I'm editing myself. That statement's half true. The great task of editing is avoiding the tendency to turn every story into one of my own. It's very tempting to revise others' work as I would my own — to make their sentences like mine, to make their storylines adhere to my personal ideas of what a narrative should be.
This is a pretty small-minded approach, and usually benefits no one. So as an editor I suppose I feel more like a custodian, where the goal is to protect and burnish another person's jewels and make them really shine.
I'm not afraid to remove fluff and garish pendants. But I'm not very willing to blow projects up, as I do to so many of my own.
4) Tell us about your creative process.
My creative process is decidedly un-creative. I try to be a workhorse. I write for an hour or two every morning immediately after I wake up. Then I go to my job-job. Then I try to squeeze in another half hour. When I'm stuck I read books I've read before and try to take what ideas from them I can.
5) What's appealing about short fiction?
A good short story has something contraption-like about it. Reading stories by masters — Borges, Munro, Saunders, etc. — I feel the pleasure a marble must feel when going through a Rube Goldberg device. It's so satisfying! I suppose at some point I wanted to be able to make others feel that feeling with my own work.
6) Endings are notoriously tricky for writers…
My first creative writing instructor was Hot Shot American Novelist Hero Dean Bakopoulos.
He once said short stories are approaching their ends when he can feel them circling back to their beginnings. The characters return to a point where they once were, but are changed (or not).
I was an impressionable student, and have continued to use this as my aim. It's vague but it stands.
7) What do you consider the most important element for a short story?
The language and the plot are, for me, of equal value. I don't have patience for poorly written stories, no matter how exciting or risque. But I don't have patience for well-written pages-long descriptions of furniture, either. Things have to happen. But there must be some aesthetic pizzazz.
8) How does your approach change depending on what outlet you are writing for?
The general advice here tends to be the best advice — make sure you know the outlet you're pitching well. A great essay or story might not be a great fit for every publication. It's the writer's responsibility to understand a given publication's subject matter and voice.
9) What's your biggest piece of advice for aspiring writers?
Don't be afraid to steal moves from writers you admire. Read stories you like and pick apart how the authors introduce characters, or how long they spend describing a room, or how they manage the movement of time. Then rip it off. After doing this a few times you'll develop your own methods.
10) What will you will cover in your Fiction Bootcamp class?
This will be a class that focuses on discrete skills. Line-editing is going to be one of them — we'll be going over some published works and seeing if we can cut any extraneous words of phrases. My belief is that a writer must know how to edit himself or herself well in order to have success.
We'll also be discussing how to structure plots, and taking a look at some short-shorts to see how masters do it. We'll then steal from those masters and make our own short-shorts. Which can be expanded into long-shorts. Or long-longs.
Thanks so muck for your time and wonderful answers Max!
If you want to dip your toe into fiction, Max's San Francisco Fiction Bootcamp starts on Wed. 10/4 and his Short Story Bootcamp starts Wed. 12/6.