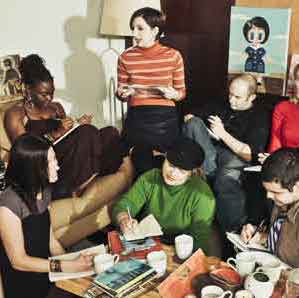 Writing Pad was founded by freelance writers Marilyn Friedman (NY Times #1, NY Times #2, San Francisco Chronicle, Salon) and Jeff Bernstein (NPR's Unfictional) with the express purpose of providing students access to top a tier MFA level education at a more affordable price.
When Marilyn Friedman first tried in vain to find a great writing class, she searched high and low, braved cramped surroundings, stinky salads, lackluster writing prompts, and heavily medicated instructors.
From this, Writing Pad was born. We removed all the things that make a writing class unproductive, and built on all the things we loved: a comfortable artist space, inspirational teachers, a nurturing environment, and tasty snacks so people aren't hungry while they write.
Almost 14 years, hundreds of classes and four locations later we've built a community of amazing, supportive, and talented writers. We hope you'll join us at the Pad.
Email Us
hello@writingpad.com
Frequently Asked Questions