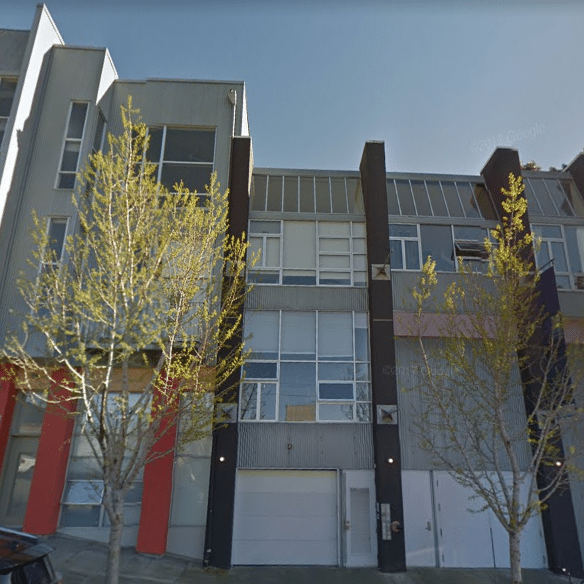 San Francisco
1695 18th St. #409, San Francisco, CA 94107
Arrival Instructions
We are in a corrugated steel loft building at 18th St. and Carolina. There are two entrances. 
Go to the metal gate. It is up a few stairs and next to the empty lot / basketball court.
 
On the wall to the left of the gate there is a keypad. Find 409. Buzz us, and we will 
buzz you in.
 
Walk up the stairs and continue along the building until you see the lobby through t
he windows and a door on your left.  The keypad by the lobby door is disabled
 so you have to wait until we come down to get you. When we get to you, we will
 take you up the elevator. Writing Pad is on the 3rd floor. If you're running more than 5 minutes late, please do not buzz. Instead, text us at 323-333-2954 or Laura at 520-250-8979. We will come welcome you and let you into class quietly. If you are not coming to class or you will be late, please text me so I know how long to wait for you to let you in, and I can tell your teacher.
Parking
We apologize, but you can not park in our little building garage. If you do, you
 will be towed. Luckily, Potrero
 has an abundance of free street parking. We recommend parking in front of the lot
on 18th or snagging one of the spots close to the building.
 
Potrero is a safe neighborhood full of coffee shops, city views, and delicious restaurants.
 
However, we recommend the following safety tactics:

1. Lock your car doors when you park your car.

2. Don't leave anything visible on your car seats or floor, even plastic bags. 
If you have a messy car and a busy life, take an extra 5 minutes to clean these 
items up and put them in your trunk. It's worth it!

3. Come upstairs to Writing Pad if you arrive within 30 minutes of the class start time.
Things To Do
Here are some nearby restaurants we recommend:
Mochica
Up the hill on 18th street. Delicious Peruvian food. Great appetizers (ceviche,
lomo, empanadas) and drinks.
1469 18th St, San Francisco, CA 94107
(415) 278-0480
Hazel's Kitchen
Up the hill on 18th street. Great sandwiches and soups. Salads are not great.
I recommend the Thanksgiving turkey sandwich with cranberry sauce.
1319 18th St, San Francisco, CA 94107, b/t Texas St & Missouri St
(415) 647-7941
Papito
Up the hill on 18th street. Good burritos. They also have tacos and salads.
Open for lunch and dinner.
317 Connecticut St, San Francisco, CA 94107, b/t 19th St & 18th St
(415) 695-0147
Chatz
Up the hill on 18th street.Two minutes away. Great smoothies, pastries, and coffee
to fuel your writing.
301 Arkansas St, San Francisco, CA 94107, b/t 19th St & 18th St
(415) 206-0300
Pastel Brazzuca
A five minute walk. Delicious Brazilian restaurant that has excellent smoothies, Acai bowls,
black bean stew, chicken and black bean plates, and pasteles and coxinas. In the front of a
gym. Open for breakfast, lunch and dinner but closes at 8 p.m., 2:30 on Sat. and closed Sun.
290 DeHaro St, San Francisco, CA 94107 at 16th Street
(415) 800-7057
Farley's
A neighborhood favorite café. Empanadas and coffee are good.
1315 18th St, San Francisco, CA 94107, b/t Texas St & Missouri St
(415) 648-1545
Chez Maman
Up the hill on 18th street. Oh la la. OK French food.
1401 18th St, San Francisco, CA 94107, b/t Connecticut St & Missouri St
(415) 655-9542
Whole Foods Café
Five minute walk from the pad. Decent burger and salads. Great soft pretzels, wine and beer.
450 Rhode Island, San Francisco, CA 94107
(415) 552-1155
Plow
Up the hill on 18th street. Great for brunch or lunch. It is a very long wait (1-1.5 hours).
1299 18th St, San Francisco, CA 94107, b/t Mississippi St & Texas St., Potrero Hill
(415) 821-7569