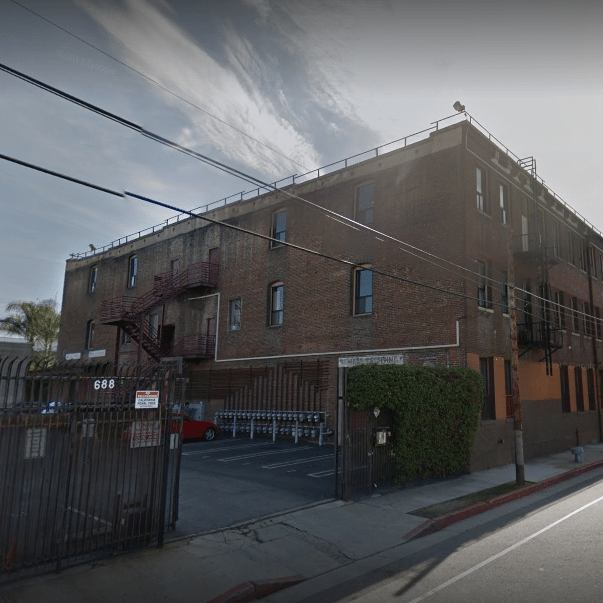 LA – Arts District
688 S. Santa Fe Ave #303, Los Angeles, CA 90021
Arrival Instructions
We are located in a red/brown brick loft building at 7th and Santa Fe. Find apartment 303 on
 the intercom system. We will buzz you in. Then go to the top of the metal, 
outdoor staircase (3rd floor). If you need directions or
 have trouble getting a hold of us through the intercom, call us at 213.325.6910. If you get through the gate without buzzing in, make sure to call Chris at 323-646-9196 so we know to let you in through the door at the top of the stairs.
Parking
You cannot park in the gated parking lot. You will be towed if you do. 
On weeknight evenings and Sundays, you can park next 
to the building or across the street. On SATURDAYS, you can't park on Santa Fe Ave.
 
Writing Pad East (and the Arts District of Downtown) is in a very safe 
neighborhood. However, three of our students and our location manager had car
 windows smashed recently on Jesse (it always happens on Jesse) which we think
 is part of a racketeering ring to force folks to pay for parking. We recommend that 
you do not park on Jesse and that instead, you park on Santa Fe Street, 7th street,
 or Industrial. There is also a paid lot opposite
 of Urban Radish at Industrial and Jesse.

Please leave yourself enough time to find parking and make the short walk to Writing Pad.
 
We also recommend the following common sense tactics: Lock your car doors when you park your car; Don't leave anything visible on your car seats or 
floor, even plastic bags or worthless items. Even if you have 
a messy car and a busy life, take an extra 5 minutes to clean these 
items up and put them in your trunk.
Come upstairs to Writing Pad if you arrive within ½ hour of the class 
start time.
Things To Do
Walking Distance
Urban Radish—Upscale grocery store with the most delicious sandwiches, pastry, coffee,
and a lovely set of outdoor tables to sit at (you can even get wine there). This is my top
recommendation (walking distance—park your car, then then make a left on Jesse and walk
to the grocery store, across from Little Bear.
Everson Royce Bar—Fantastic new bar! Only open for dinner and late night. Excellent
cocktails and small plates. Definitely worth going to. You will love it: 1936 E 7th St,
Los Angeles, CA 90021.
Bread Lounge—good European style baked goods, sandwiches, salads, soups, bread,
coffee, (greenish building at the corner of 7th and Santa Fe across the street from Writing Pad
on 7th. It is comfortable for writing in too (plenty of outlets, seating and air conditioning):
Little Bear–good beer and burgers and salads, so so grilled cheese sandwiches and fries
(walking distance—park your car, then then make a left on Jesse and walk down Industrial,
across from Church and State (overpriced fancy restaurant), next to the Toy Factory Lofts:
Pizzanista (closed on Mondays)—Good pizza slices, salads, and fancy soda pop (walking
distance—park your car, then walk down 7th towards Alameda):
The Springs—delicious vegan food, wonderful smoothies, alcohol. It's like a spa. I love
it and I'm not vegan. It is pricey but the environment is so nice for writing and tasty food.
(walking distance—park your car, then make a left on Jesse and a right on Mateo)
Driving Distance
EdiBol—Delicious healthy and some unhealthy Asian fusion options. I LOVE this restaurant.
Do it. 300 S Santa Fe Ave, Ste Q, Los Angeles, CA 90013:
Snociety—Poke bowls and dumplings. This is my favorite new lunch place in Little Tokyo.
It's healthy and so delicious. If you like sushi, you will love this place. Not a fast place but so
delicious! 330 E 2nd St, Ste C, Los Angeles, CA 90012
Wurskuche (delicious sausages (veggie ones too), beer and fries)—driving distance, about
5-10 min.