Career Spec: An Interview with Miguel Ian Raya
By Jeff Bernstein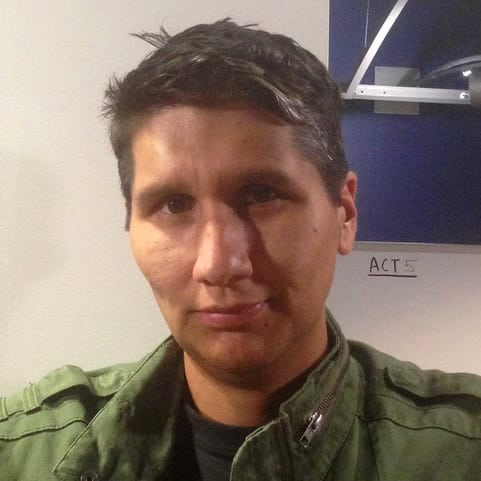 Getting a break in TV is tough and the statistics behind seemingly a direct career path that starts with a studio fellowship are daunting (.16% get into the ABC Fellowship).
TV Writer, Miguel Ian Raya has walked that path with persistence and an iron will, leaving behind a lucrative career as an attorney only to climb the development from the ground up, first as a PA, then as an assistant for Michel Gondry and eventually as an ABC Fellow leading to his first gig.
He's worked on top shows such as ABC's Once Upon A Time and Freeform's Stuck In The Middle. As Fellowship Season approaches, we spoke with Miguel to get his take on the selection process.
Miguel's teaching a TV Spec Class for Writing Pad starting on 10/7 in LA.
1. How did you get your start writing for Television?
It's a long and circuitous route really. I actually started out with aspirations of becoming an lawyer and went to law school and received my law degree. I soon realized, however, that I wanted to have a greater hand in the creative side of the business so I ultimately went back to school again, receiving my MFA at Columbia University. At Columbia I wrote plays, musicals (including a couple that were produced), TV pilots and screenplays. After that, I spent a few years as an assistant, working for producers (Brian Grazer), directors (Michel Gondry) and in development (Original Film). During this time, I learned as much as I could generally about the business, but also specifically about writing. I also learned as much as I could about television and the business of TV – and ultimately use that knowledge and education in an actual position within the TV industry when Eddy Kitsis and Adam Horowitz hired me to be their assistant on "Once Upon A Time."
2. What was your time as a fellow for ABC/Disney like?
To this day, I still consider myself so lucky to have been chosen. Tim McNeil runs one of the top programs in the industry. He does that by having a highly scheduled, but also balanced workday for each of the fellows. ABC is a full-time program. And it's one of the few programs to bring in guest speakers each day, set up one-on-one creative and executive mentors, foster new work from their writers during the program, and specifically work to get EVERY program writer staffed (and they also pay their fellows). Due to the program, I ultimately ended up getting hired for my first staff writing position on Freeform's "Famous In Love" where I wrote an episode for the first season.
3. What's your number one piece of advice for the fellowship application?
Don't just know what you like or what you want to write, but know yourself. Specifically, know what makes you special and what sets you apart as a writer. Sometimes that specialness is easier for one person to identify than another, but it is important to remember that everybody has something. The trick is figuring out what it is, isolating it and making it shine.
4. How did you choose what show to spec for ABC and how did you approach it?
I chose "Grey's Anatomy". At the time, Greys was in its 11th (!) season and they were going through another creative renaissance and the show was (and is still) so strong. So there were so many rich places I could take my spec story from where it was already going thanks to their narrative. But I also knew that choosing a veteran show could show the judges that I could tell a compelling story for characters that have been on TV for over a decade (something still very important to network television and the executives that make these decisions).
In addition, my other sample, my original pilot, for the program was a heavily serialized fantasy show. It was a huge conceptual swing – and something very personal to me. So, I wanted to hopefully show the program judges that I had some versatility. And they would hopefully see I could do multiple things and work in multiple genres as a TV writer and not be pigeonholed, an important skill for success in the ABC program and for TV writers generally.
5. What's been the biggest struggle in your career?
I think this is an evolving question for everybody. I sometimes think the business is a little like a video game in that each new promotion is like leveling up. When I was a PA, I wanted to be an assistant so badly. But when I got the chance, there were so many more issues and challenges and things I needed to learn – and learn quickly. Once I felt comfortable in that role, I just wanted someone to recognize me as a writer. And now that that has happened, it has also come with a new set of challenges.
6.In addition to an MFA, you have a law degree. How have these skills informed your work and career as a TV Writer?
When you are becoming a lawyer and studying the law daily, you have to develop analytical and critical thinking skills. It's a sink or swim thing. But once you have these skills, they will always help – even outside of legal situations. In fact, I think they can also be applied specifically to every day situations that writers find themselves in during the course of business, whether negotiating a contract or something else, like pitching a story in a room. You always have to bring your "A-game" in what can sometimes be an intense situation, and law school gives you plenty of practice.
7. What piece of advice would you give to someone who has just gotten their first job in a room?
I've been a part of three as a write and a few as an assistant, and the one thing I can definitively say is that each one is different. First off, take a beat and observe the room. If this is your first job, no one is expecting you to lead, so you have that flexibility. Take the temperature and figure out what this room likes and doesn't, both in terms of story, but also on a personal level. And once you've figured that out, know your place as a writer. Know what the room and the showrunner expect of you as a writer and deliver on that. I had an EP once tell me that as a young writer, on most shows, you are not expected to throw the touchdown pass, but you do have to make a block here and maybe catch a pass for 5 yards there – just move the ball down the field little by little, easy does it.
8. What is the most valuable piece of advice that a writing mentor has given you?
A mentor once told me that every TV writer has rough patches in their career, but the great thing about TV is you can always write yourself out of that slump – with new original material.
9. You've worked for some high-profile directors like Michel Gondry & Brian Grazer. What what did you take away from them?
Michel and Brian are very different people but they are both incredibly creative and incredibly successful at being creative. I think in a marcro-sense, each showed me that there is more than one way to craft and nurture a great story. And they are both exceptional storytellers.
10. What was it like to write on "Once Upon a Time"?
To be able to take these iconic Disney characters and contribute to their legends and their stories is really a once in a lifetime opportunity. But "Once Upon A Time" is such a standard-bearer not only in terms of the stories they have told over the years, but also in the way their room is run. Eddy, Adam and the rest of the staff are always about telling the best story and have refined the process over the years in ways that really extract that each break. And they were able to do that while providing a great environment for everyone on their staff.
11. What can students expect to learn in your class?
We are going to break a great spec for each of them. And we are going to do that by identifying who each student is and what kind of stories they want to tell because of who they are. But I hope the students who sign up for my class also know that having me as an instructor means getting someone who has experience at many levels, who has been a part of multiple writers rooms in both drama and comedy, and can offer insight and examples from a career in the industry that they might not find in other places or with other instructors.
12. As a writer who has crafted a spec that was good enough to get you into a great fellowship and has been on staff on several shows, what should aspiring fellowship applicants and staff writers keep in mind as they try to put together a great episode of television?
Well I don't want to give all my secrets away before class! But I will say that if they are early in the process (as we will be in the class) and writing an original, to really to not necessarily know every beat of the story but to know why they want to tell the story, who their characters are, and what they want out of the story for their characters – both in the pilot and in the series. The latter will really help titrate how much you want to reveal for each character during the course of the pilot and how you want to reveal it.
If they are writing a spec episode, I think its so important to know the series you are writing backwards and forwards so that you can truly justify your spec as something that hasn't been done before, but is also completely in line with the tone of the show – which can sometimes be a difficult bar to clear.
But also, don't be afraid to take chances and be vulnerable. Competence won't be enough for a lot of these programs. You are going up agains hundreds and thousands of applicants. You might write a really solid script, and believe me, we've all written them, but unfortunately that might not be enough.
13. You've written on both comedy and drama shows. What are the special challenges of each type?
A writing instructor at Columbia once told me there's comedy in drama and drama in comedy. It sounds cliche but it's also true. I think it's just about knowing the person you are, and how much you want to tap into each – and then being able to rearrange yourself and your own mind for the kind of story you want to tell.
I will also say that while comedy shows can seem so light and fun upon a watch, the process of writing them can sometimes be incredibly daunting. You are telling jokes but more importantly you are telling a story and the two do not always go hand in hand. And if it's a sitcom, specifically, both need to be top notch. But it's also incredibly rewarding to see these stories really "play" when on set or in the finished product.
If you're applying for the fellowships and are looking for that edge, check out TV Spec Class for Writing Pad starting on Sunday October 7th in LA.