Copy Queen: An Interview with Blogger Heather Sundell
by Aaron Fentress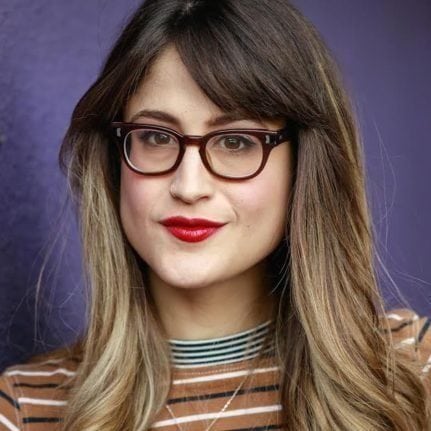 Welcome to the golden age of branding. An ever changing crop of social media outlets are available to every aspiring influencer with an internet connection to taut their wares.
In this rapidly changing landscape, one thing is sure: Copy is king. Whether you're a blogger, entrepreneur, internet personality, bestselling author or celebrity chef, to harness the power of instagram or twitter you need writing chops.
Enter Heather Sundell, blogger, freelancer, copywriter, storyteller, creative writer, marketer, social media-lite and Head of Content at JoyMode. We caught up with Heather and she gave us the dirt on what it takes to be a successful purveyor of words that sell.
Heather's teaching Blog 1 and Copywriting for us this fall!
1. You wear a lot of different hats as a writer, but where did you get your start? How did your blog help your career as a freelance writer?
When I decided to be an English major at USC, there were two tracks: Literature and Creative Writing. In college, I studied and wrote fiction, in addition to updating a Livejournal one of my writing teachers made us keep during a semester. I HATED blogging. I thought I was terrible at it, which made me not want to do it all.
After a couple of years away from it, and with the rise of bloggers, I immediately took to Tumblr because it wasn't an echo chamber like other blogging platforms with which I had experimented. Tumblr is a social platform, you have people talking back. I'm a Gemini; I like social! I've always been an early and avid adopter of social media, so Tumblr felt like the perfect fit: writing and connecting with people. I started a personal blog under my digital alter ego, MissHezah, but quickly switched gears to start Terrible Twenties shortly after turning 25 years old. In the midst of a quarter-life crisis, After a while, it evolved into my platform to tell my story of coming into adulthood.
My blog helped with my career as a freelance writer in a few different ways. I think most obviously, practice makes perfect. Having a platform to write often was invaluable in not being afraid to create, and learn how to do it efficiently. As I mentioned, Tumblr and Facebook became critical in getting feedback for what I was writing, which helped me refine my topics and how I tackled them in real-time. I started to not only write what I wanted but what other people were interested in reading, which helped me send compelling pitches. Lastly, I think blogging helped me freelance because it created a community of other writers for me to tap into for support. Whether it was peer editing, or sharing contacts, having other successful blogger friends has been a giant advantage in breaking into a freelance career.
2. Where do you get the inspiration for your blogging?
I find inspiration mostly in my own life or observation of cultural moments and trends by reading articles. It's also imperative to read other people's blogs for inspiration on topics, formats, and promotion.
3. What skill-sets should aspiring bloggers master first? What do you think the elements of a great blog are?
A great blog has a VERY clear point of view. To achieve that, an aspiring blogger needs to identify an authentic perspective to own. That will help distinguish yourself as a unique voice, as well as provide a dependable lens through which all ideas can be filtered. Also, self-editing is super tedious and supercritical. By the time you're done with a blog, you just want to get it out in the world, but it makes a huge difference to take the time to edit.
4. You do a great deal of live storytelling. How does storytelling affect and inform your copywriting and blogging?
I consider my storytelling training and practice as a form of cross-training for everything else. I learned early on that just because something sounds good written, it doesn't have the same impact spoken, and vice versa. Storytelling is writing to be spoken and performed, so it needs to be written way more conversationally and casually than you would any other type of writing. Storytelling is also the art of telling personal stories, which can help bring a new level of insight and vulnerability to your blog, or angle to a copywriting project.
5. How is copywriting different from other types of writing? Is it? Should it be?
Copywriting is very different, most notably in the length. Truly great copywriting can say a lot in just a few words. A lot of copywriting in today's advertising and marketing world lives on social media so it needs to capture attention and evoke an emotional response in a digestible length. It's also different in that you need to effortlessly be able to weave a brand message into compelling creative writing, whereas most other types of writing don't have any ulterior motives.
6. You're the head of content for Joymode. What does that entail and how did you get that job?
At a startup company, titles don't mean much; everyone does everything! For the most part, I head up all of our branding and creative content. I am helping to establish our brand's story and come up with creative ways to tell it to our audience. My job ranges from content strategy to running our social channels and writing every line of copy that goes out. It's super creative, and I use my writing skills in many different ways from writing presentations, to email marketing, and emotionally resonant creative campaigns. I was tapped to take the role because the founder and I had been following each other on social media for a couple years after I tried the service when it first began. I think the role is really a culmination of all the different positions I've held: communications, SEO, social media, copywriting, content marketing, and blogging.
7. What was your biggest struggle early on in your career?
The Recession! I graduated college in 2007, got two jobs in SEO and social media and then got let go into the worst economy. I might as well have had NO jobs. It took me a year and a half to find my way back onto a career path. In between, I moved from LA to Denver, then back to LA. I worked as a server at a tea house, the assistant manager of a hot dog stand, interned for free, and was an executive assistant at a branding agency. I'll never take any job, big or small, for granted ever again.
8. What's something you wish you had known when you were starting out writing?
It's really important to surround yourself with other writers, particularly successful ones. I didn't have any for a very long time, and it's an isolating feeling. It wasn't intentional; all of my good friends were focused on more professional endeavors. But still, there's an inclination is to keep other writers at a distance because they're the competition, or because their success makes you jealous. You must get over feeling miserable about other people's success or being defensive about other writers, especially those who write in similar formats and topics. It's easy to see someone's good fortune on social media and feel angry at how easy it seems for that writer, but you don't know the whole story of how difficult it was to get there. Writing isn't just writing, it's networking. You want the most successful people to be your best friends so that you can be successful too!
I think it's also super important to call yourself a writer. I was hesitant to use that title for a long time because I didn't consider myself a *real* writer. It's a self-fulfilling prophecy. Put it in your social bios and start telling people it's what you do, and the opportunities will come!
9. What is your advice to aspiring copywriters? What do they need to demonstrate in their portfolio to get work?
Make sure you HAVE a portfolio. If you are not allowed to advertise certain brand work on your website, create a PDF portfolio you can send with your resume. Your portfolio should be diverse in industry verticals and in type (i.e. email newsletters, social media, blogs, web copy, video, etc). Most copy is digital, so try to showcase it in context. If it's Facebook copy, show the entire post with the creative. Providing a short case study with each piece of creative is helpful for hiring managers to not only see your writing skills but also your ability to creatively problem solve for a client. The best copywriters are able to communicate a brand message both creatively and strategically.
10. What can students expect to learn in your classes?
My professional background in communications, marketing, content, and social media, combined with my freelance creative writing, storytelling and blogging experience allow me to teach a unique set of best practices that borrow rules and skills from multiple writing artforms. I let all writing inform my approach, which offers a multi-dimensional, on-trend, and actionable set of skills to any aspiring blogger. In my class, you will not only learn how to create the content, but how to ensure that it's read and shared with a growing audience and following.
11. You've written for some big publications and done copywriting and content creation for some huge clients. Do you have any insights for our readers on how to create stories that are worthy of publication? How do you write the kind of copy that makes you stand apart as a copywriter?
You don't need to reinvent the wheel. Instead, jump on one that's already on the move. You can create stories that are worthy of publication by reading stories that were published and taking note of why you liked it. Read the comments section. What resonates with people? What is a divisive topic that will generate conversation? Learn from other successful writers!
Same goes for copywriting. Pay attention to the ads in your social feed, commercials, billboards, and email marketing. What makes you stop and click? Keep a folder of copy you like as inspo.
Get your dreams off the ground with Heather this fall in her Blog 1 and/ or her Copywriting.