Being Transparent with Stephanie Kornick
By Jeff Bernstein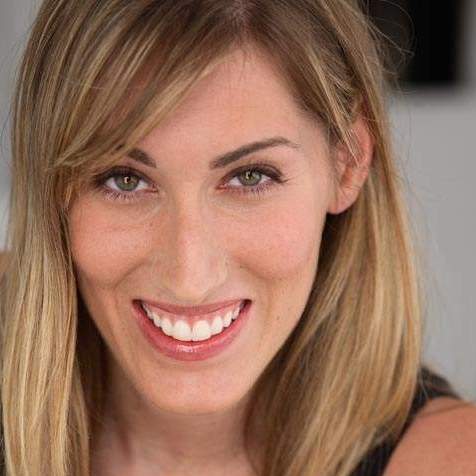 As a TV Writer, how do you get staffed on an A-List ground-breaking streaming show out of the gate? It's the million-dollar question every aspiring scribe is asking. TV writer Stephanie Kornick has the answer. Her first writing gig was a staff position on season four of Amazon's award-winning series Transparent. Currently she's writing a biopic about Andy Warhol's Trans Superstar Candy Darling and adapting the novel Radiant Shimmering Light.
If you're developing a series of your own or want to dip your toe into television writing, Stephanie's teaching a live online TV 1 Class starting this Saturday, February 16!
We caught up with Stephanie by phone to discuss her work, creative process and experience working with one of Hollywood's most celebrated and innovative showrunners.
1. How did you get your start in TV?
I was a summer intern in the Original Programming Department at Showtime as part of my graduate program. This led to a Writers' PA position the following year on the TV show United States of Tara, which eventually led to more assistant jobs on more TV shows.
2. You studied playwriting in graduate school and wrote/produced the play "Small Talk." Can you tell us a little bit about the play, the most important lessons you learned from that experience and how did it affected your TV Writing?
My background is in theatre so it's always been my comfort zone. Working on Small Talk was an opportunity to see my work come to life – something that can take a while when you're trying to break into TV or film. Theatre is more process oriented than TV or film, so it allows for space to rehearse and workshop the material with actors before it's performed in front of an audience. Even then it's still a living, breathing piece of work that is always evolving. I try to approach my TV writing like this by reading the dialogue out loud and letting the material talk to me.
3. What are your biggest influences (TV, plays, musicals, books, etc.) and why?
My favorite TV show is The Comeback. I love the discomfort and honesty in the tone. I also love the movie Eternal Sunshine of The Spotless Mind because of the unique perspective and it always makes me cry. I love Charlie Kaufman. I love the musical movie Moulin Rouge because it makes my heart sing. And I love Waiting for Guffman and all things Christopher Guest. One of my favorite plays is The House of Yes. I really love a good dark comedy or a musical.
4. What's your approach to writing a script and how do you keep those skills sharp?
It really depends on the script. I try to listen and stay open. Sometimes I do a lot of research. I am always working on multiple projects at once at various stages. I try to take lots of breaks and avoid too many social commitments. I also try to not overdo being on social media. I'm not a huge social media person in general . . . I'm just on The Facebook. But still, it can feel very distracting when you are creating.
5. What's a common rookie writer mistake and how can it be avoided?
I think a common mistake writers make when they're just starting out is to assume that their first couple drafts are their final drafts and that they are "done." It's an ongoing and ever evolving process. Don't get too attached to your ideas, especially if you want to work in a writers' room.
6. What's the best advice you received early on in your career? 
Be patient. It takes time. And make friends with the assistants. These will be your people.
7. What's something you wish someone had told you when you first started in TV?
Be in the world of Hollywood, but not of it. Enjoy the validations, the perks and all the fun sparkly things, but don't get too attached to any of it because it all comes in waves. And you can always write yourself out of anything. That's the beauty of being a writer. When things don't go the way you think, trust that a lesson will present itself. Don't take shit personally. Just enjoy it.
8. Your first staff writing gig was on Transparent. What was it like to work with Jill Soloway and what did you take away from that experience?
Jill approaches scenes and story from a place of feeling. They use language that relates to me in terms of theater: beat changes, playable actions, etc. That approach and focus was something I experienced in theater, but less in television.
In other shows I've worked on, it never felt like there was time to find the true motivation for the scene on set. It was often about the director trying to get his shot. But Jill made time for the scene to breathe. They create space to discuss the emotional context of the scene. What are the characters doing to get what they want? I had never seen that brought to the writers' room before that.
9. You came up as an assistant and trained the assistants on Transparent. What are the most important skills to develop to get a first assistant gig and continue to move up the food chain to staff writer?
A lot of being an assistant is being a nanny for adults: putting the writers' needs before your own. I was a good nanny and also a pretty organized person, so this helped me as an assistant. As an assistant, your role is to support the writing staff. It's not about you and what you want and why you're such a fabulous writer. It can be humbling.
But as a writer, I think you need a little bit of ego to make that leap from assistant. Hopefully not too much ego, but it helps to be confident in your voice as a writer and know what you add to room. But there is no one path or right way to get where you want to be. It has to feel right for you.
10. What are you reading/watching these days and why?
I'm reading the book Radiant Shimmering Light by Sarah Selecky because I'm a huge fan of Sarah's (and I happen to be adapting it to a series).  I'm watching The Marvelous Mrs. Maisel, BoJack Horseman, Kidding, Ancient Aliens on the History Channel, all of The Real Housewives, True Detective, The OA (I love everything Brit Marling does.). There's so much great content out now. It's hard to keep up.
11. You're writing a Candy Darling biopic. How did this project come about?
The producers had Candy's life rights and were looking for a writer. One of the producers, Katrina, had worked with my husband on a movie. He's a producer and Katrina knew I was working on Transparent. She read a play I wrote and said, "You should come in and meet everybody on Candy Darling."
They sent me a documentary. I loved it and came up with a loose take on the material. They wanted someone who was collaborative and open to suggestions. It was fun. I had a strong take and a clear vision, but I read the room. I wasn't too locked into my version of the script. There's no point of us having a marriage if it's not right. It has to feel right.
12. You're currently adapting the novel "Radiant Shimmering Life" to series. Tell us about this project.
We're pitching it as a multi-season, one hour show. Initially, my agent read the book and said, "This is so you." She was right. The next step was to give it my take as a TV show by figuring out what the logline, tone & pilot would be, as well as clarify where it's going and answer the "why now?".  It's basically a regular pilot pitch. The book had just one character in first person so I created lives for the secondary characters and expanded on what the author had set up.
Thanks so much Stephanie! If you'd like to learn more about Stephanie's creative process and get her help writing your pilot, you should check out her live online TV 1 Class starting this Saturday, February 16!